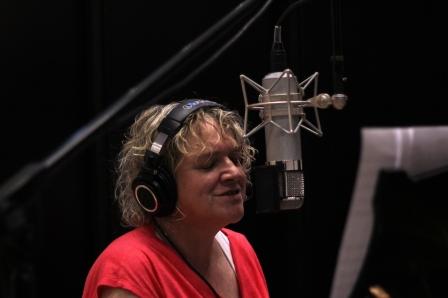 Sometimes my songs just seem to 'appear' from out of nowhere, but clearly they are born out of relationship with God.  I thought I would share with you some of the stories of the songs that are on  WORTH IT ALL
"WORTH IT ALL" opens with a song which came to me spontaneously last year, during a time of worship,when i was on tour in England. Actually, it was in Torquay, Devon, and Devon has a special place in my heart, beacuse i spent two years there when I was at Dartington College of the Arts,  before going on to music college in London to study the violin at the Guildhall School of Music.  Torquay is not far from Dartington, and my friends and I loved to catch the bus, and travel through the narrow Devonshire lanes, to visit Torquay and to enjoy walking on the beach, and eating cream teas. ( let the reader understand!) Happy memories indeed!
THERE'S A PLACE is a simple song that speaks about the hidden place that we have in God…. our Shelter…. our High Tower, our Rock.. All these images  speak of the security that is only found in Him.   'You have placed my feet upon a rock, far above my enemies"     When I did the arrangement of this song, I was imagining David, out in the fields at night, tending the sheep.  I imagined him playing his harp or his flute. In order to capture this atmosphere I used a special mute on my violin, that gives it a very 'distant' sound.   I hope you enjoy!
IN THE BEAUTY OF HIS HOLINESS is one of the most intimate songs that I have ever recorded. I actually wrote it first in Hebrew, and that version is on the new CD of Hebrew songs, that will be available soon.
When I was a child, there was a hymn that we sang in church that I always loved. I particularly loved the melody, and the words captured my young heart, even before I came to really know the Lord..
O worship the Lord in the beauty of holiness
Bow down before Him, His glory proclaim
With gold of obedience and incense of lowliness
Kneel and adore Him, the Lord is His name.
And so the hymn continues, with beautiful words of a life laid down before the feet of the Lord.
One day in January 2015, as I was sitting in my little apartment in the hills of Samaria, Israel, with guitar in hand, I began to sing these words….. "Worship the Lord, in the beauty of His holiness, bow down before Him all the earth….." (Psalm 96:9)   I was singing in Hebrew…..and it continues " Say among the nations, the Lord reigns"   I knew that I had tapped into something very special as I sang this. Something so simple, and yet childlike and intimate.  Standing before our amazing God, His beauty stretching beyond our imagination, and yet to even touch it a tiny amount fills our hearts with adoration and longing for more of Him.
This is how I feel when I sing this song…..  So I have recorded it here in English with a simple piano accompaniment. You will be able to hear it in it's original version with guitar,  on the Hebrew CD "Kol kach Karov – So Close which will be released by the end of November.  This song is about simplicity of heart. I am 'lost in wonder, love and praise' to even think that I could stand before Him, or kneel, or even more, that I could be held in the embrace of the One that I love so much.He draws so close to us.
Jesus has made the way for us to enter into this kind of intimacy. It is amazing, and may we never take it for granted. I hope that you enjoy the song, and that it brings you into His Presence in a deep and yet simple way.
YOU ARE WORTH IT ALL really says it all! Sometimes life doesn't seem so easy, or we feel that the Lord has given us a task that is just way over our heads!  I wrote this song in 2007, in Brooklyn, New York.   I was in the midst of preparations for the upcoming concert of 'Oratorio Terezin' in Carnegie Hall. So much to organise, that it just seemed overwhelming at times.  Early one morning I sat at the beautiful grand piano in the home that I was staying in, and i began to sing these words:
You are worth it all,
You are worth it all,
And it's worth it all!
It summed up how I was feeling…..worn out, and yet so full of love towards the Lord! Even if it was difficult, and i was exhausted, it truly was worth it all!   And that was several months before the performance at Carnegie Hall, New York, on a cold February night in 2007.  To see the hall full, and so many Holocaust survivors that were there that night……all I could say was "'Father, I love You so much.  I just want to tell you that You are worth every ounce of energy that I have poured out. Jesus,You are worthy, and You are worth all the honour and praise. You are worth it all."