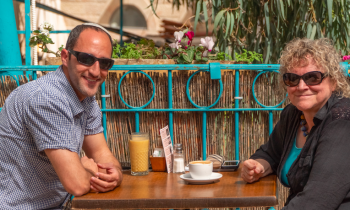 Ruth Fazal with Gil Pentzak in UK Wed.evening,March 3rd-Sat. night, March 7th
Stanford-in-the-Vale, Oxfordshire
On Wed. March 4th until Sat. March 7th, Ruth and Gil Pentzak will be leading a 'mini NOW Week' in Stanford in the Vale, Oxfordshire, Gil is an orthodox Jew, that Ruth has been working together with since 2013. Together, Ruth and Gil share with groups through conversation, worship, and studying the scriptures together. God is on the move!
To learn more about what God is doing through them, please visit
ZION NOW Please be praying Ruth and Gil as they continue their journey together, and share it with groups, in Israel and abroad.
FOR MORE INFORMATION OR TO REGISTER PLEASE CONTACT
mandypatterson@btinternet.com

Invite Ruth to come to your church or community.
INVITE RUTH TO LEAD AN EVENING OF WORSHIP
With almost thirty worship, instrumental and classical recordings to date, Ruth brings a wealth of experience and insight to all that she shares, both through her music and in her speaking. Ruth has a deep desire to see people enter into the presence of the Lord and to truly hear His Voice.
An evening of intimate worship such as this is a combination of worship in song, time to reflect as Ruth plays on her violin, and the opportunity to listen to Ruth as she shares about her journey with the Lord in recent years. A surprising journey indeed!.
HOST A SCREENING OF 'EZEKIEL OUT OF EXILE' – Ruth's latest classical work, accompanied by a film.
The videography of 'Ezekiel Out of Exile' is designed to help us to meditate deeply on God's Word, as it depicts the destruction of the temple, the banishment of the Jewish people from their land, the effects of being in exile throughout history, and finally their return. The music and the film together enable us to experience the intense longing and the painful process of waiting to see the hand of the Lord move on behalf of His people, to bring them home.
The central text of the work is Ezekiel the Prophet's vision of the valley of the dry bones, seen during the time of the Jewish exile in Babylon. On either side of this text I have placed a Psalm; one that speaks of the pain of being in exile, and the other of the joy of redemption. I find great comfort in the final words of Ezekiel's vision; "And you will know that I the Lord have spoken, and I have done it, declares the Lord"
An evening such as this is ideal for both Christian and Jewish audiences. Ruth plays her violin and talks about the process of writing 'EZEKIEL Out of Exile'. This would be followed by a screening of the film ( 45 mins) with time for questions afterwards.