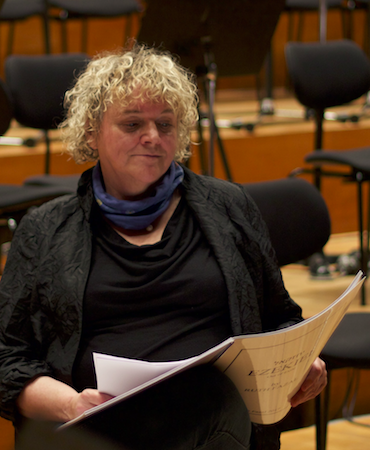 Vallum Magazine interviewed Ruth Fazal in 2008, after the performances of Oratorio Terezin at the 'Place des Arts' in Montreal, Canada.
ruth fazal interviewed by jane hope
In 1940, the fortress and garrison city of Terezin fell into Nazi hands, and was converted into a concentration camp within a year. Presented to the outside world as a model Jewish settlement, Terezin served as a deportation camp for Auschwitz and a forced labour camp. A large percentage of the camp's inmates were artists, professors, jurists, writers, musicians and scientists, intentionally placed there to conduct cultural projects, such as concerts and plays, to create an acceptable face for the Holocaust for international scrutiny.
All inmates were required to work, but through the ingenuity of people like art teacher Friedl Dicker-Brandeis, the approximately 15,000 children interned in Terezin continued to receive an education and learnt to express themselves creatively in response to the horror around them. Very few of these children survived the war. Dicker-Brandeis, herself a victim of Auschwitz, concealed the work of her students in two suitcases. This, amongst with other surviving poetry, forms the basis of the poetry collection I Never Saw Another Butterfly (Schocken, 2004).
Canadian violinist Ruth Fazal was given a copy of I Never Saw Another Butterfly and was so moved by the text that she resolved to put them to music, creating the Oratorio Terezin. Since then, the Oratorio has been performed worldwide, harnessing the talents of young musicians to bring the poetry of Terezin to a new audience. Ruth spoke with Vallum regarding the oratorio, her experiences and the role of children in art.
JH:
Can you speak to the general experience of composing this oratorio?

RF:
Have you got a few hours? (laughter) It was something that took me totally by surprise, because I was not looking to write anything, and somebody gave me this book of poetry. I was so touched by the poems, and I just wanted to somehow address the whole thing of the situation in which the children found themselves, and relate it to the whole human experience of what do we do in those times, and where is God in those times. I mean, that was the central question to the whole of the oratorio – where is God in those times? And what do we do with that issue? The experience for me was a long one, and a very arduous one, and not an easy one at all. It took me three years to write the piece, and because its not only the children's poetry I used, but portions of the Scriptures, so the experience itself was an incredibly worthwhile journey, but not an easy journey.
JH:
Have you composed many pieces before?

RF:
No!  I write songs. I mean, I don't really 'write' songs – they just kind of appear. So really, no I haven't.  It has always something that has been inside me to write music, but professionally I'm a violinist, so I haven't really taken the time or spent any time doing that.  Yeah, this was my first piece, and it's a mammoth piece – not, you know, "Write a little string quartet!" No, no! "Write an hour and three quarter long oratorio!"
  
JH:
You're a professional musician. Was it a big challenge moving from poetry to music?

RF:
No. Actually I find that I respond very easily to text. in fact, in some ways the biggest challenge came when it came to orchestrating the piece.    When you are working with text for music, you already have a structure and a sound, as opposed to if you are creating just music, where you have to actually create that structure.  Obviously, what you do to that text is going to change that a little bit, but at least, with text, you have some kind of beginning structure already there to work from.  I love working with text, and I especially loved discovering these poems written by the children who were in Terezin.
  
JH:
Performing Oratorio Terezin involves a significant participation from young musicians. How is it different working with child artists?

RF:
Well the choirs for Oratorio Terezin is a combination of both a children's choir, and an adult choir. The children's choir has a very special role in the piece, as they sing the poetry of the children who were in Terezin. Working with children is fantastic, because they are just like sponges. The whole journey for them was an amazing one. Especially for the kids who sang it from the very first performance, right up to the last performance we did at Carnegie Hall. We performed it in Toronto, and we took twenty children from Toronto to perform in Europe, and they joined up with the Bratislava Boys' Choir there. Working with those children and seeing them begin to see the significance of what they were doing, and the significance of singing these poems in places where all of this history of the Holocaust had happened was really fantastic to see. They really started to understand that they were doing something very special, and to see that themselves were this light in a very dark place, and that they were bringing that light wherever they performed. We took seven children from the Toronto choir to Israel, to join with an Israeli children's choir, as well as some of the boys from Bratislava. Going to Israel was another step in their journey. So, I love the whole aspect of working with children. I think they have much more of a sense of affecting the world around them and a real belief that they can do that. Maybe we lose that hope as we get older. To watch them begin to understand that It's not just about the music, it's not just about singing a song. It's about what we do as musicians that can actually affect the world around us, and I really think they got a hold of that in some way.

JH:
So, how was the experience of performing the Oratorio in Israel?
RF:
It was amazing. Just everything comes alive in Israel. The premiere concert , as you may know, fell on Holocaust Memorial Day, and we didn't plan that. So, we were in Tel Aviv and the city declared it to be the main cultural event of the day for Holocaust Memorial Day, May 5th, 2005. I think a special highlight for everyone was performing it in Jerusalem, with so much of the text that we were singing coming from the Scriptures. You hear the word 'Jerusalem', you hear the word 'Israel', and there is a connect – a connect on the inside. I think the children had done the real connecting to the poetry when we went to Europe, but I think we did the connecting to the Scriptures when we went to Israel, seeing how it all comes together and relates.

JH:
Well I wanted to interview you after seeing the Oratorio this year in Montreal, and reading in the New Yorker that Friedl Dicker-Brandeis wrote to a friend in 1940: "I remember thinking in school how I would grow up and would protect my students from unpleasant impressions, from uncertainty, from scrappy learning. Today only one thing seems important — to rouse the desire towards creative work, to make it a habit, and to teach how to overcome difficulties that are insignificant in comparison with the goal to which you are striving."

RF:
That is amazing, that is really amazing. Friedl Dicker-Brandeis had such an influence on many of the children, and continues to influence us all even now.
JH:
So, in light of that, how do you feel you are a teacher to these children, and how are they a teacher towards you?
RF:
Well, I hope that my life teaches them. I hope that what I do teaches them. Certainly their response clearly means, I think, that this has really happened. It really is a sense of empowering. If they look at something and go, "Wow, even writing a piece of music can actually have an effect", if they see something that goes beyond and deeper than just the making of music. For them to see that whatever they do, even if it seems hard when you begin, (I mean, obviously I have related to them my whole journey of writing the piece, – that there were times when I just wanted to give up, or when I thought and even cried out to God, "I can't do this, I didn't train to be a composer, I trained to be a violinist". But when you get a vision, you know, go for it! And go the whole way, don't let stuff hold you back. Don't think, 'oh well, I don't have the money' or whatever. I think, as far as what the children have taught me? Well, they have taught me how to learn something, and how to be open to change. They are just so enthusiastic and full of life, I just love being around that kind of life. When kids touch something that is real and they see that they are doing something, then they come to life. When they come to life, it's amazing.

JH:
What is the future of Oratorio Terezin?
SB:
Basically, it's out there now, for anyone to do, and Montreal was really its first time out there on its own. I mean, I kind of mothered it a little bit, but you know. But it is going to be performed in February 2009, in Hamilton, with the Hamilton Children's Choir and the Bach Elgar Choir. Most recently, I've had some interest from someone in Berlin, who I think has the means to make it happen. My role of financing the thing, and making it happen is over. That finished after the concerts in New York. I feel like I did what I had to do. But I must say, I would love to see it performed in Germany. We didn't go to Germany on the European tour, and I'm thrilled to think that it might happen there.